Before the recent interest in eastern Ohio's utica shale, gas leases were written a little differently.  One big difference between the leases of old and the new leases has to do with how the Lessor (the landowner) and Lessee (the energy company) settle disputes.  Where old leases didn't quite restrict the methods by which the parties could settle their disputes, new leases can include some pretty strict language that make landowners follow specific procedures for addressing their concerns.
Arbitration clauses have become common in oil and gas leases here in Ohio.  The leases that include such language usually require the landowner to have their concerns addressed by a neutral arbitrator rather than a judge or jury. Because most folks (and most attorneys) prefer to avoid lengthy litigation and court costs, arbitration can be an attractive alternative to quickly and efficiently settle claims between parties, though you need to be careful in drafting your arbitration clause.  We have significant experience in oil and gas matters and in representing clients in arbitration proceedings.
If you have questions about how arbitration might affect your oil and gas lease, please contact us today.  For your benefit, a sample arbitration agreement follows.
Any dispute arising out of this agreement shall be settled through binding arbitration.  Either party may initiate an arbitration proceeding by notifying the other party in writing. The parties shall agree thereafter upon a single person to act as arbitrator; said person to be selected within 20 days after written notice is served.  In the event the parties cannot agree upon a single arbitrator, each party shall immediately select an arbitrator and the two so chosen shall promptly select a third.  The place of arbitration shall be ________________ and the laws of the State of ________________ shall govern the proceedings. The procedures to be followed by the arbitrator(s) and the parties shall be those prescribed in the Commercial Rules of the American Arbitration Association, although the AAA shall not administer the arbitration proceeding.  The arbitrator(s) and the parties shall take reasonable action to conclude the arbitration within 90 days after the initial written notice is served.  Judgment upon the award rendered by the arbitrator (or a majority of the arbitrators if more than one serves) may be entered in any Court having jurisdiction thereof.  The arbitrator(s) shall have the authority, but not be required, to assess costs and/or attorneys fees against the losing party.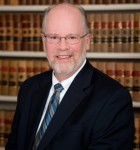 ERIC C. JOHNSON attended Ohio State University, earning a degree in economics and then graduated from the University of Cincinnati Law School in 1983. His areas of practice are personal injury law, real estate, oil and gas, contracts, litigation and appeals.