Six months ago I wrote an update on Ohio oil and gas leasing. Since that time, lease activity in Ohio has changed somewhat. New Utica wells continue to be drilled, but it can take a while to learn about their production capabilities. Some of these wells will be drilled and left alone for a period of at least  4 weeks. This is done for geological reasons and has to do with the pressure of the reservoir. Drilling companies also like to keep the success of their wells secret lest they inform their competitors of valuable drilling strategies. For the most part, the same energy companies I mentioned in January are still around: Chesapeake, Devon, Hillcorp, Shell, Anadarko, Hess, Gulfport, Consol, and XTO (Exxon). A few others have shown up, too: BP has recently entered the area, and we have seen renewed action from Enervest. We have also had a chance to review a number of Halcon oil and gas leases. Again, each company typically has a specific area of interest in Ohio, but other companies like Chesapeake are casting a pretty wide net.
Even though we have seen a few new energy companies showing interest in Ohio, leasing has slowed down a bit since January. Most if not all of the largest parcels have been leased. Now companies are looking to the smaller landowners who have been left aside in favor of the larger parcels. Most of our new clients lately own fewer than 5 acres of land. Some even own less than 1 acre. Not all of our clients are asking us to review a new lease that has been offered to them, however. Many energy companies interested in the Utica shale in eastern Ohio are asking landowners that have old leases to sign a lease amendment that would change the terms of the original lease.  Our clients have also received requests to sign a pipeline agreement. Infrastructure is essential to developing the Utica field here in eastern Ohio. Pipeline agreements and right-of-ways are instrumental to that. Our firm is well-equipped to help landowners at any stage in becoming involved in the Utica boom. Call us today if you'd like our guidance.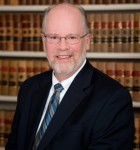 ERIC C. JOHNSON attended Ohio State University, earning a degree in economics and then graduated from the University of Cincinnati Law School in 1983. His areas of practice are personal injury law, real estate, oil and gas, contracts, litigation and appeals.