This is the first part of a series of articles about Ohio's Dormant Minerals Act.  Click here for a more detailed description of how Ohio Courts interpret Ohio's Dormant Minerals Act.
Oil and gas companies go to great lengths to determine if the person who signed a lease is in fact the true owner of the minerals.  It is not uncommon for a landowner to sign a lease and only be paid for 1/2 of what was originally promised, simply because the landowner only actually owned 1/2 of the minerals underneath her land.  At that point, the oil and gas company tracks down the other 1/2 mineral owner so they can enjoy the full benefits of leasing a 100% mineral interest.  Many of the landowners who contact our office have been paid for only a portion of the minerals underlying their land for this same reason: they don't own 100% of the minerals underlying their land.  They usually want to know, as surface owners: "is there a way for me to obtain the remaining mineral rights under my land?"
In most states, the surface owner would have to buy the mineral interest from the person who technically owns it.  Even though the deed that created the mineral interest is very old, and the person reserving the mineral interest is long deceased, the mineral interest is still very much alive.  In this instance, the surface owner would have to track down the mineral owner's holder's heirs in order to purchase the mineral interest from them.  This process likely involves the probate courts, and can become quite messy.  This process also likely involves the probate court.  Texas, for example, operates this way.
The procedure described above is still widely practiced in Ohio.  But, Ohio also affords surface owners additional options to regain title to abandoned mineral interests.  These procedures are largely known as Ohio's Dormant Mineral laws (O.R.C. 5301.56).   These laws are fairly unique to Ohio, and have recently been amended.  Because of these recent changes, Ohio courts are still interpreting the statute.  Adding to this confusion is the fact that there are two versions of the statute: one that applies prior to 1989, and another that applies after 1989.  Both statutes describe instances in which a surface owner can recapture mineral interests that, by statute, have been abandoned.  These statutes are highly technical and often don't provide for a clear-cut answer.  As a result, I will be writing a series of articles hoping to explain them, while offering updates on how Ohio courts have interpreted these laws.  Please check back soon for further discussion.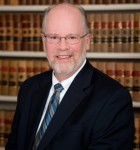 ERIC C. JOHNSON attended Ohio State University, earning a degree in economics and then graduated from the University of Cincinnati Law School in 1983. His areas of practice are personal injury law, real estate, oil and gas, contracts, litigation and appeals.